Calendar of Events
No matter what the season, there is always something going on in the City of Blanco. Keeping our residents informed of scheduled events and local happenings is important.
Know of an upcoming event that we need to add? Give us a call or send us an email and we will be happy to add it for you.
---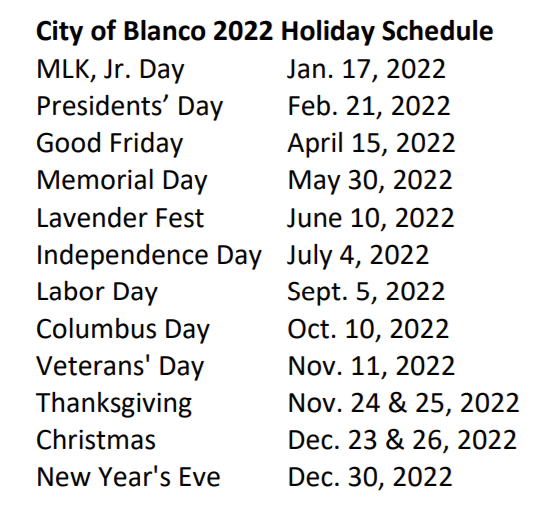 Click here to view the 2023 Holiday Schedule.
Upcoming Events
TxDOT US 281 Blanco County Project VIRTUAL Public Meeting
Begins: 9/29/2022 - 5:00 PM
Ends: 10/14/2022 - 11:59 PM
To attend the meeting, visit www.txdot.gov, and keyword search "US 281 Blanco County" or click here.
---
"TxDOT is developing preliminary plans to improve 19 miles of US 281 from US 290 to the Comal County line in Blanco County, Texas, including the US 281/US 290 interchange. This study excludes any improvements to the existing four-lane segment of US 281 through the city of Blanco and excludes the study of a relief route around the city of Blanco, which is being studied as part of a separate project. The purpose of the proposed project is to enhance safety, improve connectivity and improve mobility by providing additional roadway capacity to meet current and future traffic demands due to population growth and increased traffic volumes. Throughout the project limits, the existing roadway is two-lanes with Super-2 passing lanes. Current study limits contain the last section of two- lane US 281 roadway within the Austin District. The preliminary plans would expand the roadway to a four-lane divided highway similar to the adjacent section of US 281 to the south. This is consistent with TxDOT's statewide plan to upgrade rural highways to four-lane divided roadways as part of the Texas Trunk System and consistent with the recommendations from a previously conducted statewide US 281 feasibility study."
The public meeting will provide an opportunity for the public to review and comment on:
Project information and updates.
Proposed alternatives.
Hill Country Night Sky Month
Begins: 10/1/2022
Ends: 10/31/2022
32nd Annual Old Blanco Courthouse Gala
Begins: 10/8/2022 - 6:00 PM
Ends: 10/8/2022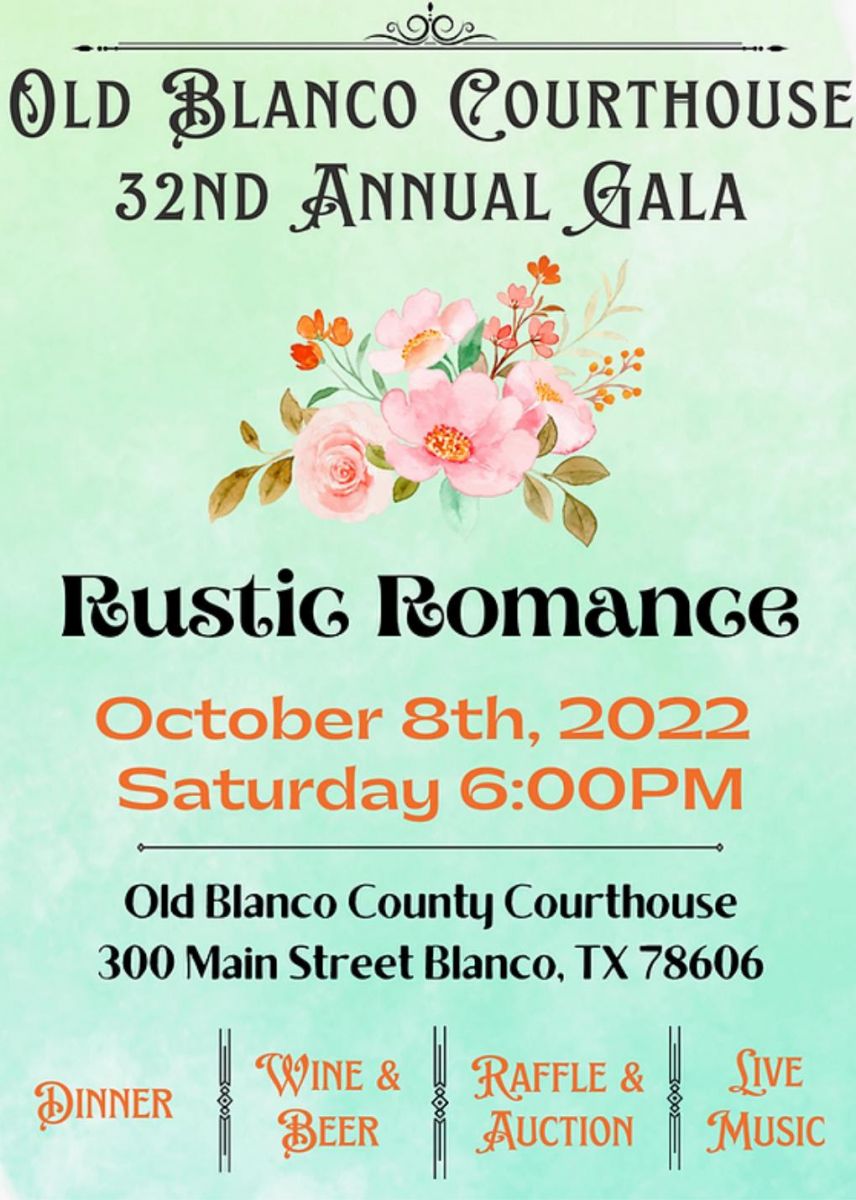 Reading Between the Wines
Begins: 10/9/2022 - 5:30 PM
Ends: 10/9/2022 - 7:00 PM
Author and poet Cathy Wilkes presents: Facets: A Collection of Uncommon Poetry at the Gem of the Hills.
Paired with a tasting by winery owners Robert and Lydia Nida's Pebble Rock Cellars of Johnson City

City Closure
Begins: 10/10/2022
Ends: 10/10/2022
The city offices will be closed in observance of Columbus Day/Indigenous Peoples' Day.
City Council Regular Meeting
Begins: 10/11/2022 - 6:00 PM
Ends: 10/11/2022
Blanco Market Day
Begins: 10/15/2022 - 9:00 AM
Ends: 10/15/2022 - 4:00 PM
2nd Annual Texas Marigold Festival
Begins: 10/21/2022
Ends: 10/29/2022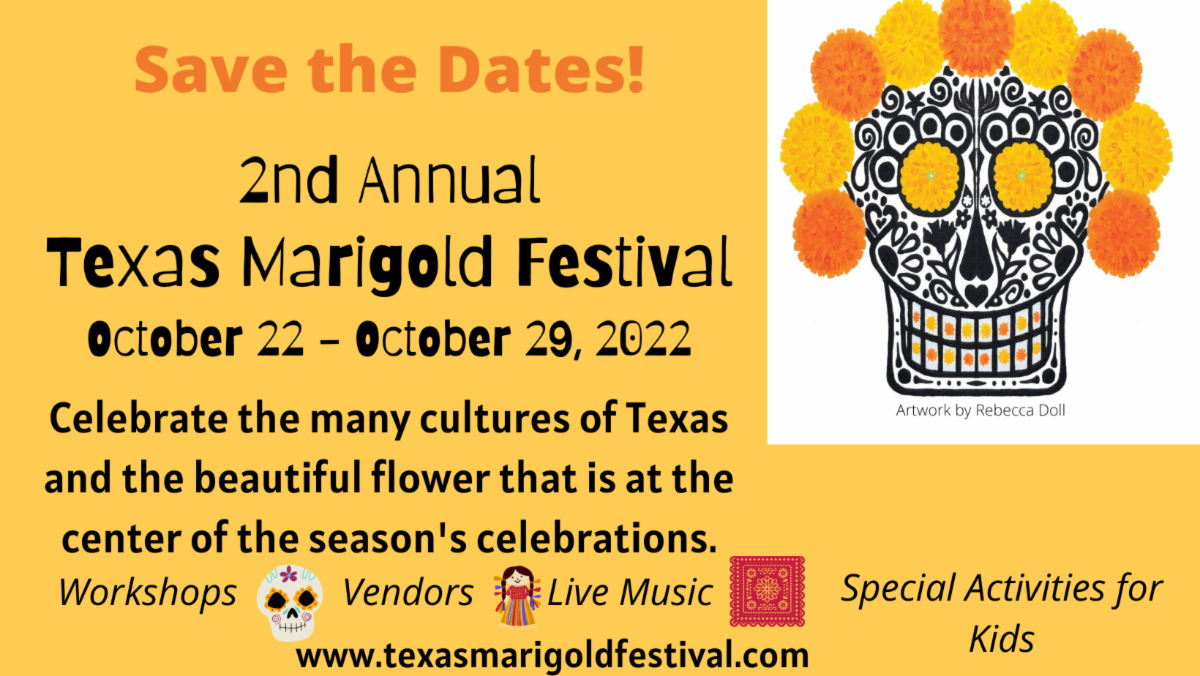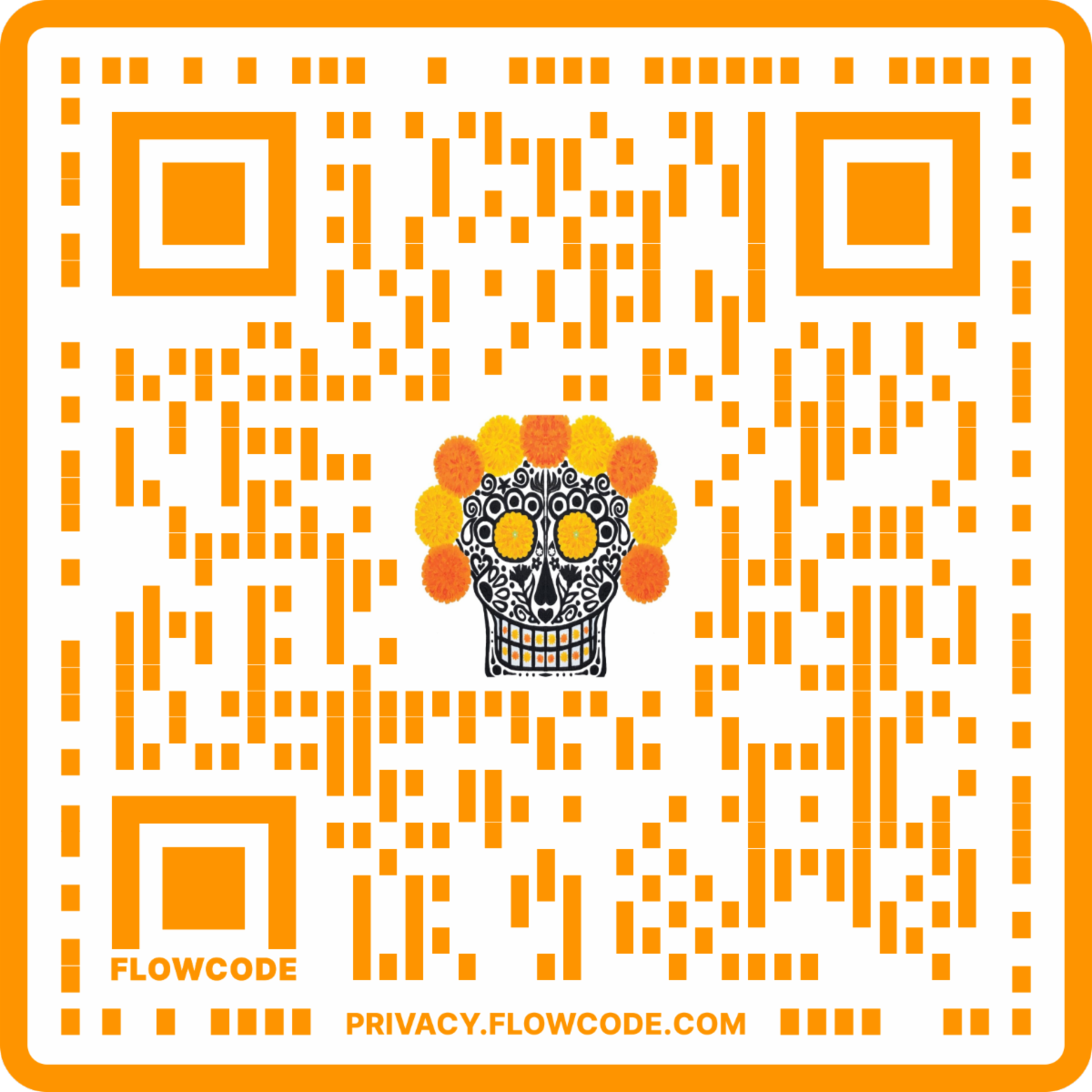 2022 Real Ale Ride
Begins: 10/29/2022 - 6:00 AM
Ends: 10/29/2022
After a 2 year hiatus, Real Ale Brewing Company is bringing back their annual Real Ale Ride!
Click here for more details.
BHPC Regular Meeting
Begins: 10/31/2022 - 6:00 PM
Ends: 10/31/2022
Trick or Treat the Town Square
Begins: 10/31/2022 - 5:30 PM
Ends: 10/31/2022
Bring your ghouls and goblins to the square for some fun and safe trick or treating!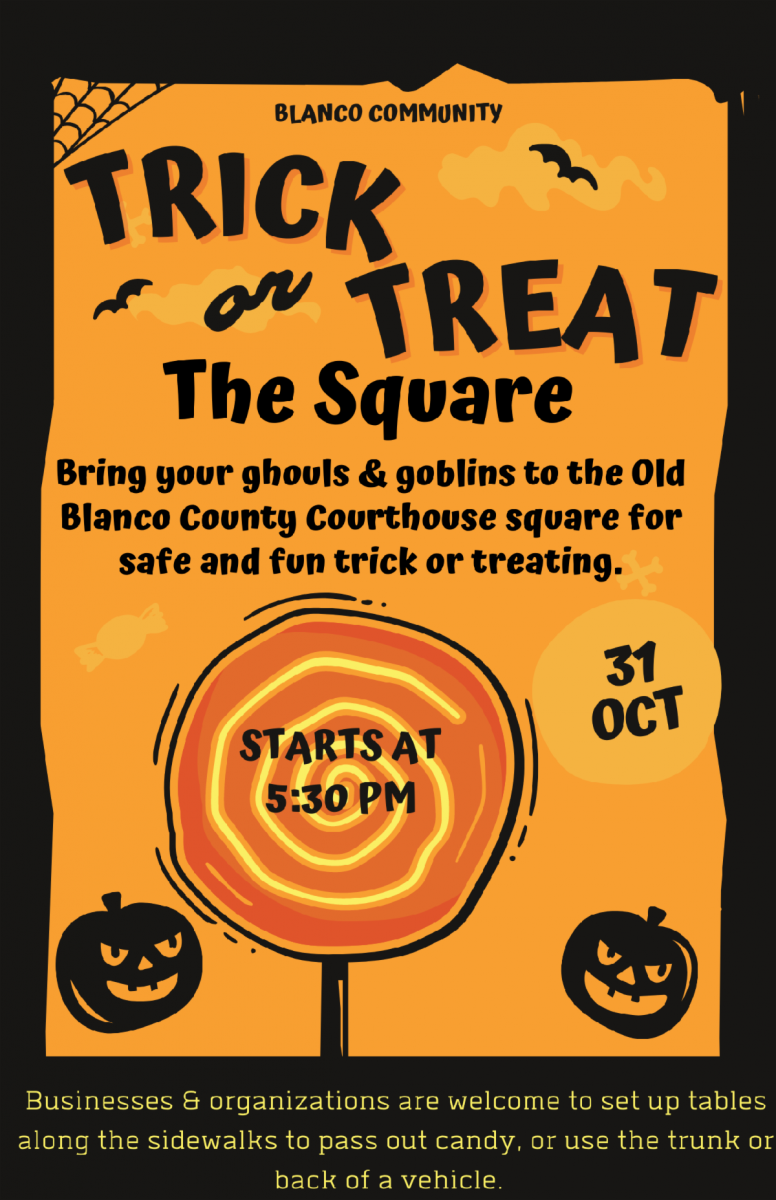 Buggy Barn Museum's Western Showcase
Begins: 11/5/2022
Ends: 11/5/2022
Gem of the Hills: Trails, Tales, and Tunes
Begins: 11/6/2022
Ends: 11/6/2022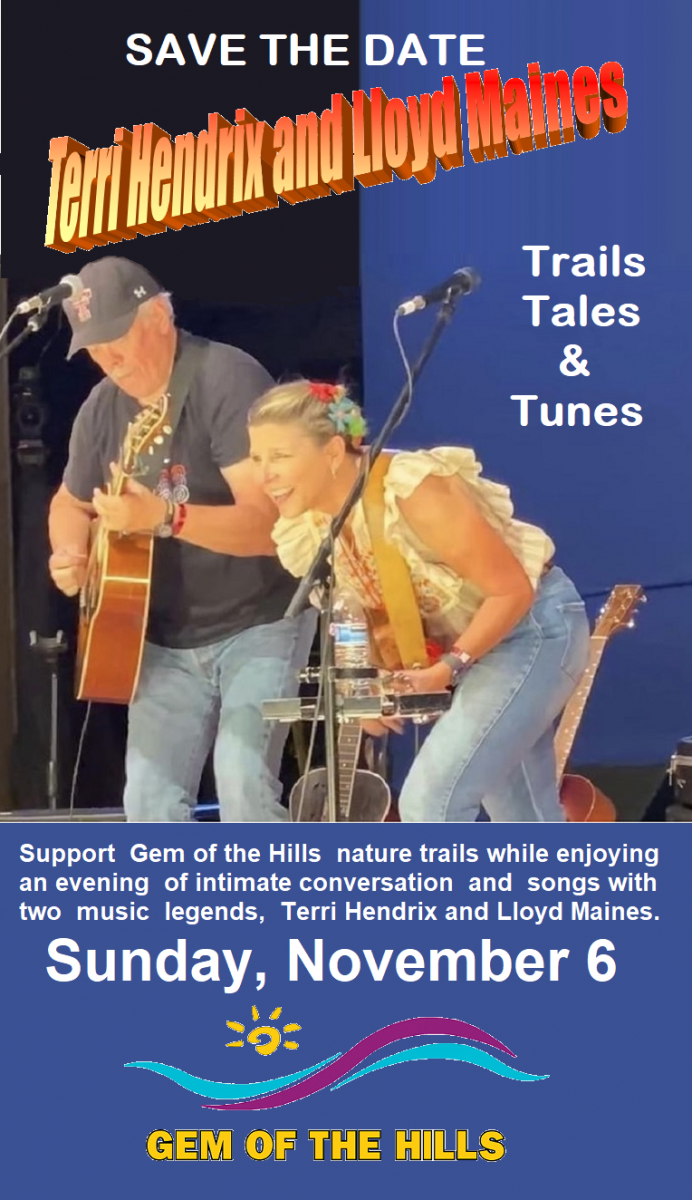 Blanco Rodeo Association Play Date
Begins: 11/6/2022
Ends: 11/6/2022
P&Z Regular Meeting
Begins: 11/7/2022 - 6:30 PM
Ends: 11/7/2022